The shop owners are NOT SELLING ACCOMODATIONS, neither for campers nor hut guests. Ask FÍ, please: www.fi.is
You can find some fundamental information about accomodation, transport, camping, biking and more
HERE or HERE or HERE. Have also a look at our links collection, please.
Nice summer to all of your !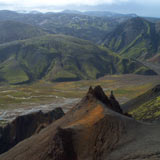 Suðurnámur